I recieved a note that there was a parcel ready for me to pick up. It was Friday last week. Then I was busy feeling sorry for myself Saturday, then Monday I left work at 10am sick. Spent the next few days in bed feeling sorry for myself for being sick. Now today, this glorious Friday was the last day to pick up the parcel, so I was off to the post office. Imagine my excitement picking up this delightful treat.
So when I got home I wasted no time opening the long awaited parcel from a very special friend and I thank for so much for this honour. Ahem!
Oh look look look! It's THE parcel!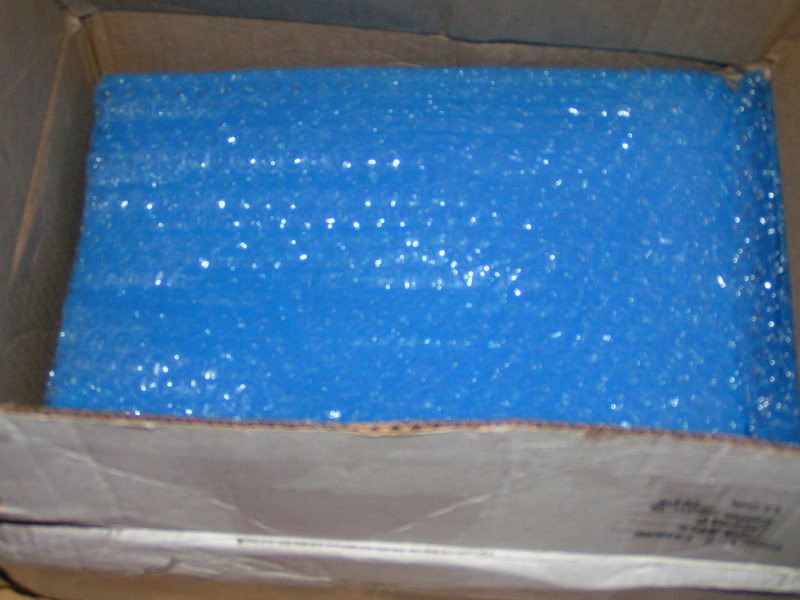 Uuuuuuuh bubble wrap!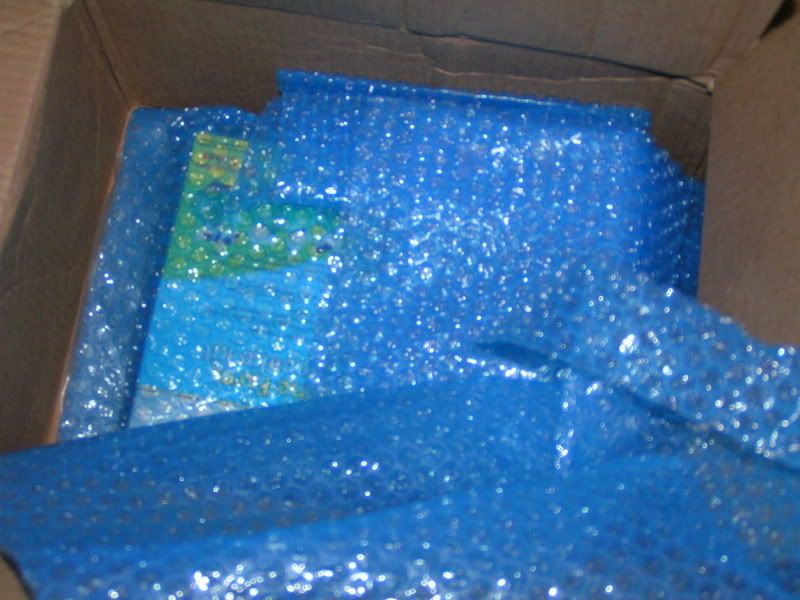 Uhhhh LOTS of bubble wrap!
YAY! I like presents! Thank you darling (for anything but TFGES)
Ew! It's TFGES!!!! They don't smell of MJs cooch anymore - thank you Tatas! Unfortunately they don't smell of Bingowings anymore either...
Posted at 11:35 pm by
CyberPete
CyberPete


April 12, 2008 10:34 PM PDT



LOL I may somehow put on on the wall, they are kool and I've been looking for a theme. Black and white stuff from the 1900s is a good theme
Tatas


April 12, 2008 10:08 PM PDT



CP: They aren't plaques babe. The big one is a table mat and the little one is a coaster. If you want to use them as plaques go ahead. LOL


CyberPete


April 12, 2008 05:06 PM PDT



KAZ: It would indeed be a very small bottle of Champagne.

Not airplane bottle, more like a doll house bottle

MJ: Just how much do you know about my cherry? Except it's sugary and fresh

Tatas: I love the plaques too. Will look great in my guest room / office

Bingowings: Merci mon ami!

Bike, moi?

Oh mon dieu!

Qenny: Who would have thought, our postal service is so rubbish here and still... I guess they must learn swirley

Tatas: There will definately be a baking entry

Not so sure about a bubble entry. We'll see if I can figure something out later this summer
Tatas


April 12, 2008 04:49 PM PDT



Cheers Eros. As the presents had to be from our part of the world I don't think I could have got anything better. I know how much he loves to cook too.
Qenny


April 12, 2008 03:48 PM PDT



How on earth did your postal delivery person (I'm guessing postMAN is a bit too last millennium) manage to find you, with that odd swirly thing instead of a proper address? Amazing!
eroswings


April 12, 2008 03:31 PM PDT



Excellent, CP!!! Awesome presents, Tatas!!!

Welcome to the hall of Freakin Green Elf Shorts Champions!!!

Take your time, have fun!!!

Careful after drinking that champagne! Don't drink and ride your bike ;)

Tatas


April 12, 2008 02:29 PM PDT



Kaz: It's a small bottle of Champagne bubbles so I hope he can get someone to help take pics while CP blows us some.

CP: your very welcome. Enjoy. I'm looking forward to the pictures. X
MJ


April 12, 2008 01:44 PM PDT



Kaz, his cherry disappeared long ago.
Kaz


April 12, 2008 01:15 PM PDT



Is that a miniature bottle of something - or is it just the camera angle?
You'll need a very small cherry.
CyberPete


April 12, 2008 10:33 AM PDT



Sparkly Tim: I KNOW!

and bubble bath!

T-Birdy: You are going to have to wait a while. I'm cooking up something as a pre compo treat. I.e. stalling for time until I have the perfect shot for the compo

MJ: ewwwww
MJ


April 12, 2008 05:29 AM PDT



Mmmmm...MJ's cooch.
T-Bird


April 12, 2008 03:55 AM PDT



Yay!! I can't wait for the pics!
Tim


April 12, 2008 01:03 AM PDT



Mmmm… Cupcakes…